I hope everyone has enjoyed the colourful, crispy mornings and are having a wonderful Fall season!
McKenzie Frenzie
Once again, this annual event was a huge success. I met many residents with questions, suggestions, and just general good conversation. Thank you to all the volunteers who put forth their time and energy into making this year's Frenzie one to remember. It's always great to see our community come together and enjoy a day of fun and family.
Hockey
As the air grows colder and the lakes start to freeze, that can only mean one thing: hockey! I had the privilege of participating in the ceremonial puck drop for the local Calgary Jr. A Mustangs last month to kick off the start of their year. I'd like to wish all the boys and girls in our community the very best of luck this season as they head back to rinks across the city.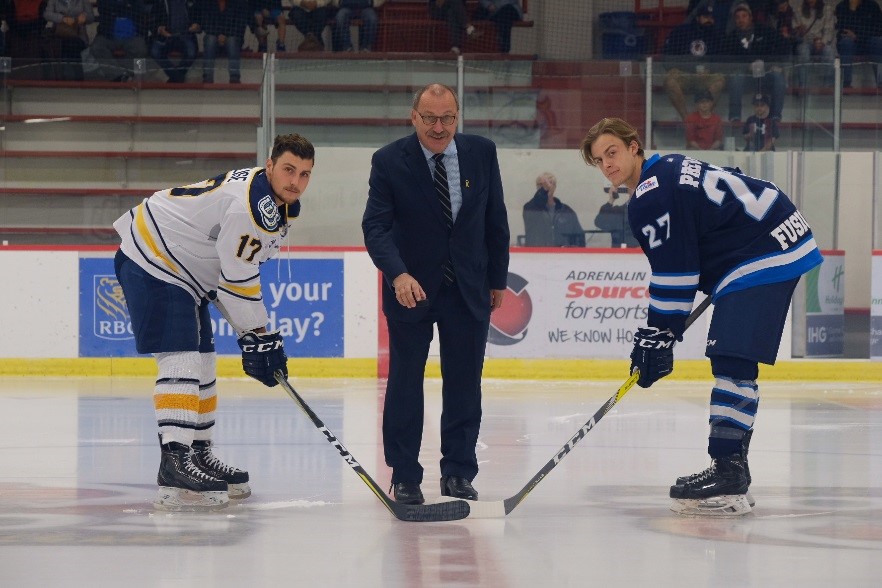 Daylight Savings Time
As you may have heard, Bill 203, the act to repeal Daylight Savings Time, was unanimously rejected by the legislative committee due to concerns of the negative impact on Alberta businesses, especially in the current economic climate. I would like to thank all the constituents who took the time to share their thoughts, beliefs, and concerns on this proposed change – and remember to set your clocks back an hour at 2:00 AM on November 5th!
Return to the Legislature
The Legislative Assembly is set to resume on October 30th. I look forward to sitting with the new United Conservative Party Caucus and continuing to hold the government to account as part of Her Majesty's Loyal Opposition.
Scrolls:
Birthday Scrolls are available to constituents celebrating their 65+ birthday, in five-year intervals.
Anniversary scrolls are available to constituents celebrating their 25+ Anniversary, in five-year intervals.
Keeping Contact:
Please stay in touch on issues affecting you and your family. As your MLA, I am your voice in Alberta Legislature and am here to help. My newsletter is written ahead of publication, so if you want updated information, have questions, or any concerns, I would like to hear them. I also look forward to attending events in the Calgary-Hays area. Feel free to contact me or my assistants Tyler van Vliet and Jeff Watson at the Calgary-Hays Constituency Office any time.