Father's Day, June 18, 2017:
A customary day for the celebration of fatherhood is known to date back to the Middle Ages in Europe, and is observed on March 19 as the Catholic feast day of Saint Joseph. The modern celebration of Father's Day on the third Sunday of June first took place in Spokane, Washington in 1910 as a contemporary to the newly established Mother's Day. Sonora Smart Dodd is widely considered to be responsible for the founding of Father's Day as a way to celebrate her father, William Smart, who raised her five younger brothers by himself after the passing of his wife in 1898. Father's Day, although widely celebrated in Canada, remains an unofficial holiday.
I would like to wish all the fathers in our community a very happy Father's Day!
Rebates for Energy Efficient Products:
This latest NDP program is not my favourite. The part where a company from Ontario comes to change your lightbulbs is particularly wasteful and not very effective in helping the environment. You are however paying for it via the carbon tax so you deserve to know how to get some of your money back.
There are three components to Energy Efficiency Alberta's Residential Retail Products Program:
Home Improvement Rebates: You can buy eligible products and have them installed by a certified contractor to receive rebates.
Instant Rebates: You can receive instant point-of-sale rebates of up to $30 on eligible products such as LED lights, programmable thermostats, water-saving devices, smart power strips and heavy duty timers.
Online Rebates: You will be able to buy qualifying clothes washers, refrigerators and smart thermostats and apply for rebates online.
Details on eligible products and related information are available on the Energy Efficiency Alberta website at https://www.efficiencyalberta.ca/instant-savings/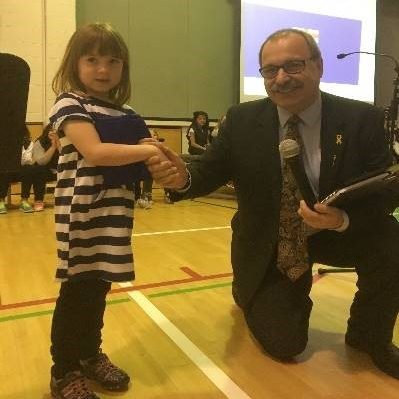 McKenzie Lake School:
Earlier this month, I had the great honour of presenting the Alberta flag to kindergarten student Hope of McKenzie Lake School as part of their 20th anniversary celebrations. The festivities included a video by grade 2 students about what their lives will look like when they are 20 years old, the sealing of a time capsule to be opened in 2037 and the unveiling of a new school logo and song. Congratulations McKenzie Lake School!
Scrolls:
Birthday Scrolls are available to constituents celebrating their 65+ birthday, in five-year intervals.
Anniversary scrolls are available to constituents celebrating their 25+ Anniversary, in five-year intervals.
Keeping in Contact:
Please continue to stay in touch with me on issues that affect you and your family. As your MLA, I am your voice in the Alberta Legislature and I am here to help you. My newsletter is written a few weeks ahead of publication, so if you are looking for updated information, or have any questions for me or any concerns that you want to share, I would like to hear them. I also look forward to attending your events in the Calgary-Hays area. Please contact me or my assistants, Tannis Turner and Tyler van Vliet, at the Calgary-Hays Constituency Office. Call 403-215-4380 or email ric.mciver@assembly.ab.ca